YOUR
ADVANCE ACCOUNT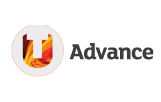 WANT TO USE YOUR FUNDS?
Click below to login
LOGIN HERE
---
ABOUT
TEESSIDE ADVANCE
As part of the Teesside University offer, you will receive £100 credit at the start of each academic year to spend on key course texts, mobile data and learning resource through this online store. You will be able to access this credit through your University email account after you have enrolled.
READ MORE
>